Ethiopian lake saved by passionate local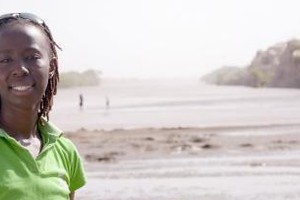 When plans for a dam that would threaten Lake Turkana came about, Ikal Angelei, who grew up depending on the lake, single-handedly began the fight to halt construction. The proposed dam in Ethiopia would be on the Omo River that feeds Lake Turkana and would increase electrical power to Kenya and Ethiopia. Angelei recognized that these countries needed the food and water that the lake provided more than electricity.
After appealing through various media and creating Friends of Lake Turkana, three major banks pulled their funding, halting the dam's progress for now. Angelei won the Goldman Environmental Prize for her activism work.
Read more at New York Times Green.
Image credit: Goldman Prize.