Experts call for better snow sensors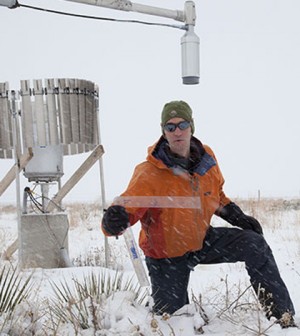 Researchers are working to find more accurate automated ways to measure snowfall, according to a paper published in the Bulletin of the American Meteorological Society. Outdated techniques are affecting measurements, they say.
Some older tests measuring snowfall use a board as a point of collection. With more snowfall, collected snow compresses on the board, lowering the height measurement researchers use. Sometimes called a "snowboard," it's one of the devices experts believe should be updated.
Among its recommendations, the paper calls for new sensor designs that can keep snow from blocking gauge openings and detect lighter snowfall while still remaining affordable.
Authors from the Federal Aviation Administration, National Center for Atmospheric Research and National Oceanic and Atmospheric Association collaborated on the paper.
Image: A laser-based snow measuring system at NCAR's Marshall Field Site. (Credit: UCAR/Carlye Calvin)