Farm ditches halt Sacramento River salmon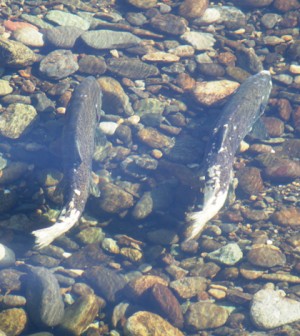 Hundreds of endangered chinook salmon are stranded in ditches along the Sacramento River, according to the Sacramento Bee. California officials are unsure as to how the fish got trapped in the areas.
Figuring out the cause for the entrapping is important, as salmon's fall run is expected in several weeks, which will send tens of thousands of salmon through the streams. Though the number of stranded fish is high, officials say they have seen higher.
In response, the California Department of Fish and Wildlife made multiple trips to free trapped salmon. Trips beginning May 2 have rescued more than 300 adult salmon held upstream.
Image: A pair of Chinook salmon (Credit: USFWS, via Wikimedia Commons)