FEMA report finds climate change to increase flooding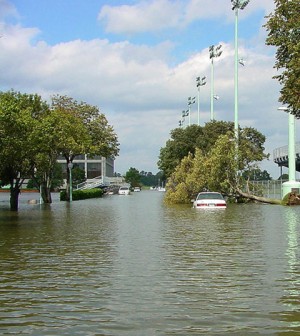 Areas at risk for flooding are expected to increase by up to 45 percent due to climate change, according to a report commissioned by the Federal Emergency Management Agency. The report covers up to the year 2100 and also accounts for expected increases in U.S. population.
The report looked at climate change's effects on the National Flood Insurance Program, which is managed by FEMA. It concluded that the size and cost of the program is most likely to go up. It cites an estimated 4-foot rise in ocean levels paired with a growing populace as the cause.
The report finds that the flood insurance program will likely double in size by the end of the century and its funding may become unsustainable. Hurricanes Katrina and Sandy have left the program $25 billion in debt, which experts say may never be repaid.
Image: Flooding in Annapolis, Md., after Hurricane Isabel. (Credit: U.S. Navy)