First Global Water Monitoring Tool is Live: World Water Quality Portal in Action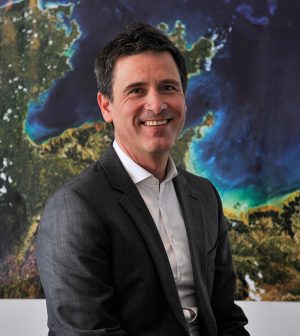 Dr. Thomas Heege, Chief Executive Officer, EOMAP GmbH & Co. KG Headquarters Germany (Seefeld). (Credit: Nila Thiel, EOMAP)
About 1 billion people around the world live with unsafe water as a facet of their daily lives. Millions of others cope with unsafe water at times depending on their surrounding circumstances. Water insecurity, then, is a problem worldwide, one that is dynamic and difficult to tackle.
Some of the areas that have the most trouble with clean, safe water are also the most difficult to access. They are in rural areas such as sub-Saharan Africa and Louisiana, where services are not the same as in urban areas. They are in areas immediately threatened by rising sea levels such as Fiji and coastal Alaska. They are in war-torn regions such as Syria and South Sudan. And they are in places where extreme weather and other disasters has disrupted daily life, making access by experts and services a challenge—places like Puerto Rico.
So, how can experts, aid workers, policymakers, and scientists work to provide access to clean, safe water without access? Optical remote sensing and data visualization is part of the answer.
The first global water quality portal goes live
Public health isn't the only issue that arises from poor water quality. Access to safe, clean water is also critical for full ecosystem functionality, food production, and economic growth. As climate patterns change and new pollutants emerge, monitoring water quality is even more relevant; for the most part, the long-term effects things like climate change and new pollutants have on ecosystems and human health remain unknown.
For all of these reasons, international leaders have acknowledged the need for water quality monitoring. The International Initiative on Water Quality (IIWQ) has been searching for ways to monitor water quality in vulnerable areas around the world; it is part of UNESCO's International Hydrological Programme (IHP), the only broadly-based science program inside the UN system focusing on water capacity-building, education, research, and resource management.
Satellite-based water quality monitoring is sometimes the only option available, especially in the kinds of places described above. And while billions all over the world are under threat from the degradation of water quality, in many places there is currently no water quality monitoring in place at all. Therefore, the IIWQ recently launched a new tool for use around the world: its World Water Quality Portal, which uses satellite and Earth observation data to provide an optical remote sensing view of waterways all over the globe. For areas which lack laboratory capacity and monitoring networks as well as the equipment and expert personnel sometimes needed to staff them, the remote sensing tool will be critical.
Dr. Thomas Heege, CEO of EOMAP, describes the way that the tool will function and serve the UN's programs.
"For most locations and times, there is no information on water quality available through ground based measurements," Heege explains. "However, independent satellite based data are available now, and can contribute to many environmental questions. There is no need to monitor locally in tandem with satellite products."
Scientists can use the portal to monitor a comprehensive range of satellite-based water quality parameters, including chlorophyll, turbidity, and indicators for toxic Cyanobacteria blooms. These parameters can be mapped globally under cloud-free conditions with sampling frequency up to once a day.
"No eoWater information products are available under clouds," Heege admits. "However, we are working on solutions to couple the portal with routine modelling and forecasting, for example in the Space-O project."
Of course, there are some kinds of monitoring that can't be achieved this way.
"The eoWater satellite-based products only provide parameters that are linked to optical scattering and absorption spectra of water constituents in the spectral range of the satellite instruments," details Heege. "Other parameters such as heavy metal concentrations and direct nitrate concentrations cannot be measured in this way. They may only be partly correlated with the optical parameters."
Still, the portal is a step in the right direction, and can direct deployment of other tools—including handheld water quality devices as they are developed. It is also a tool for decision-support, helping experts to identify pollution hotspots and other pressing water quality problems.
"From Chlorophyll a reporting tool for trophic status classes can be generated—as already implemented in the portal," comments Heege. "Or turbidity as sediment proxy for hydropower lifetime estimations, or the Cyanobacteria HAB product to support monitoring of harmful blooms for citizens, amongst many other [decisions the tool will support]."
All information on water quality from the portal is freely available and easily accessible online, along with documents and white papers on the portal. Scientists, engineers, environmental managers, and policymakers can take data for analysis and assessment directly from the UNESCO web mapping service for use in their own geospatial information systems.
"For routine and near-real-time services, meaning information provision after a few hours and up to one day after satellite overpass, the same products are available as operational service from several companies, including EOMAP," adds Heege.
EOMAP plans to launch an updated web application that will offer more uses of the data and incorporate additional features and interfaces. Eventually the application should provide more comprehensive guidance and risk management, and the observation data will be applicable for other uses, such as hydropower planning and impact monitoring in whole river basins and catchment areas.