Florida algae bloom kills hundreds of manatees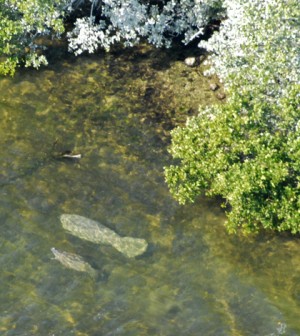 A toxic red algae bloom occurring off Florida's west coast has killed 241 manatees, according to the New York Times. The number is a record for the endangered creature, with estimates placing their Florida population around 5,000.
Most of the fatalities occurred near Fort Myers from an annual bloom. While some manatees died from direct exposure to the red tide, which contained the nerve poison brevetoxin, others ate sea grasses that absorbed it. The toxin is dangerous to birds and dolphins. Humans can also be affected.
Experts say the manatees were attracted to the area by warm-water discharge coming from a local power plant. A mild winter let the algae persist longer than usual. Large blooms and manatee migration, they note, often result in high mortality.
Image: Manatees in Biscayne National Park, across the Florida peninsula from where the bloom occurred (Credit: National Park Service South Florida / Caribbean Network, via Wikimedia Commons)