FloWav Phaser V1000 offers point-and-shoot flow monitoring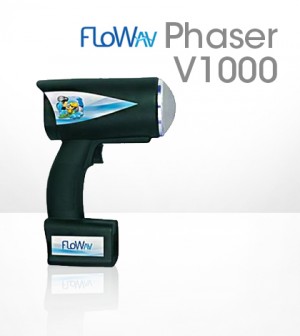 The FloWav Phaser V1000 makes spot sampling truly a point-and-shoot application for flow monitoring professionals. Long battery life, angle compensation and multi-direction velocity detection sets it apart from similar devices.
The radar sensor comes in a rugged case and an optional USB cable allows for quick data transfer to a laptop or PC. It also comes with rechargeable AA batteries and a car charger to assist those monitoring in remote areas. A typical charge can last nine hours.
"Our intent was to make it very easy to use. Low maintenance and no calibration make it very reliable and durable," said Kelly Abercrombie, director of sales and marketing.
A nine-hour charge is more than adequate given the Phaser's setup. It uses microwave K band radar to take velocity readings over a course of one minute. Every five seconds, the readings taken are averaged. At the end of one minute, all the averages (12 in all) are averaged to give an overall velocity.
"It displays every five-second reading. You're seeing that as it's reading," said Abercrombie. "But you could stop it at 30 seconds if needed."
Over the course of the five seconds, the Phaser filters out unreasonable readings and accounts for changing velocity patterns – away from or toward the user – within the stream or water pipe being sampled. The ability makes sampling more convenient for users because they don't have to adjust their approach.
"The velocity readings used to be based on just toward," said Abercrombie. "But now the user doesn't have to adjust where they are, which is important if they're in a confined space."
Tight spaces also impact the angles from which users can use the sensor. Many pros find themselves dealing with difficult footing and sideways approaches. The Phaser V1000 makes up for the instability by automatically adjusting for the awkward angles.
"It takes a measurement of the angle and plugs it into the calculation for speed," said Abercrombie. "If an angle becomes too great, it will display 'tilt' on the screen."
The Phaser takes a fairly complicated measurement and simplifies it to make an excellent velocity spot sampler, says Abercrombie.
"If you're trying to measure one river, there could be 14 different variables making up one target," said Abercrombie. "The sensor accounts for those. We really wanted to make everything as simple and accurate as possible."