For BE Surveys, Custom Bathymetry Boats Capture What's Beneath The Surface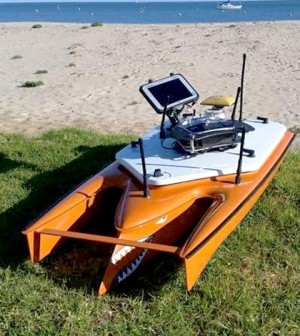 A BE Surveys Group bathymetric survey boat. (Credit: Daniel Baker, BE Surveys)
Bathymetric surveys are a popular way to capture the underwater topography of lakes, rivers and other natural water bodies. But sometimes these topography measurements are important for manmade reservoirs, like holding or tailing ponds. These bodies can contain caustic materials, which makes manual bathymetric surveying impossible.
Luckily, there are other ways to get the job done. These typically involve using a remotely operated vehicle of some sort to carry sensors around a water body to gather the data needed. For workers at BE Survey Group, an Australian company, they like to use what are called bathymetric survey boats. Surveying pros there have built several custom boats that are used routinely around the country, and internationally as well.
"Our Clients often have wet lakes that are filled with product, so we provide them with a tool that they can use to measure the product entering the lake, and the void volume that remains," said Daniel Baker, operations manager at the company. "Often we work in environments where the water body is contaminated with acids that are a by-product of mining and refinery."
Compared to using a manned vessel to paddle around a water body to gather data, Baker says using the bathymetric survey boats is a much safer alternative. But he also notes that their surveying boats offer enhanced accuracy that can't be ensured by manual bathymetry methods.
This accuracy is achieved by how the boats are designed. They incorporate twin jet propulsion systems that allow for 360-degree pivots on the water; high-accuracy GPS receivers for position tracking; and Airmar EchoRange SS510 Smart Sonar Depth Sensors that capture underwater topography in detail.
"Our bathymetric survey boat measures the underwater topography of wet lakes and rivers, so that water and product volumes can be calculated and the unknown surface below can be plotted with contours," said Baker.
These topographic maps include color shading in addition to contours, which add up to give an accurate breakdown of the volume in a spillway, Baker says. They can also inform what the highest crest level is using volumes that are calculated every 100 millimeters.
"The minimum depth reading is very important as there are often large amounts of shallow areas in the water bodies that we survey," said Baker. "The consistency and accuracy of the readings is paramount and after 8 years of providing this service, the SS510 is the best sensor we have used."
Ideally, two people will operate a surveying boat together, Baker says. But with newer technology added to one of BE Survey Group's newest boats, he adds that anyone could complete a surveying mission with a little training.
One neat thing about using their system, Baker says, is that all the data collected are live and get displayed on a tablet as surveyors work. Another is that the whole setup can easily fit in oversized luggage for easy transport to international projects.
Many of the clients on those projects, as well as the ones in Australia, tend to expect that underwater topographies will have changed dramatically since the last survey, Baker says.
"However, the tests conducted indicate incredible repeatability in results, as parts of the water bodies that do not change are re-surveyed by the bathymetric survey boat and the results are within 2 to 3 centimeters of the previous survey," said Baker. "When results like this are not expected, the consensus comments are 'always trust the boat!' as the results we achieve from the smart sensor provide the most accurate results."
Top image: A BE Surveys Group bathymetric survey boat. (Credit: Daniel Baker, BE Surveys)