ForestGEO global research network now includes U. Mich. forest reserve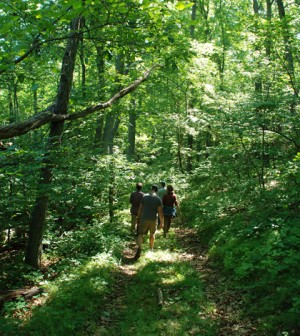 Walking a path through the Edwin S. George Reserve, the newest member of the Smithsonian's ForestGEO network. (Credit: Dale Austin)
A 57-acre forest research plot at the University of Michigan is the newest member of the Smithsonian Institution's ForestGEO, an expansive network that brings together 60 such forest plots in 24 countries.
By joining ForestGEO, researchers and students at the university will contribute data to the network, while also expanding their access to information on tree and soil types around the world. This will aid in studies at the University of Michigan, as well as others looking at broader-scale impacts predicted to come from climate change.
"These (forest) plots become really important over time. You can compare (new data) with the historical records," said Christopher Dick, professor of ecology and evolutionary biology at the university, in an interview with The Michigan Daily. "But you can't just look at one plot. With 60 plots, we can get the statistical power to address the broader questions."
So scientists looking at the population of a specific tree-dwelling insect in the Michigan research plot, sitting in the university's Edwin S. George Reserve, will be able to compare their findings to forests dominated by different tree types across the world. Other local-level projects at the university, like investigations into forest fungi, soils or evapotranspiration will also benefit.
At the global level, the reserve will contribute ForestGEO data on tree biomass and mortality changes in relation to carbon dioxide levels. Dick says it will also help scientists globally study the role forests play in taking up all of the extra carbon floating in the atmosphere. "So this network will be an invaluable tool for tracking forest responses to climate change," said Dick, in a release from the University of Michigan.
Other forests in the network include oak-hickory forests in Indiana, maple-dominated forests in China and tropical forests in Panama. Data are also available on mixed deciduous forests in England, fir-beech trees in Czech Republic and hurricane-prone forests in Puerto Rico.
But getting access to all that data required a little more than just signing up. The Smithsonian Institution has regimented protocols for plots looking to join ForestGEO, one of which calls for trees in member forests with diameters of at least a centimeter to be tagged and recorded.
At the outset, it doesn't sound like such a big to-do, but the research reserve is no small grove. It spans an area as big as 43 football fields and has around 45,000 trees. Tagging all those trees took nearly three months for graduate students and faculty, including Dick. "It was an opportunity for the students to really get a good experience. They worked in teams," said Dick to The Michigan Daily. So while one student measured, another mapped and another took down the numbers.
Through their efforts, more than 41 tree species in the research plot were identified. And students found that some of the biggest were old oaks and hickories. With successful efforts to fight forest fires in recent years, they also found that species intolerant to fire, like red maple and black cherry, are making a comeback.
Those and other findings to come can now be considered within the ForestGEO network that boasts more than 4.5 million trees and 8,500 different species so far.
Top image: Walking a path through the Edwin S. George Reserve, the newest member of the Smithsonian's ForestGEO network. (Credit: Dale Austin)