Former factory workers settle in toxic water lawsuit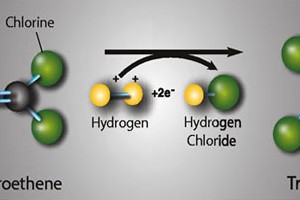 Nearly 40 former factory workers at a Florida plant owned by Siemens Corporation and General Dynamics Corporation received monetary compensation for health problems they suffered allegedly due to toxins dumped into the drinking water there. One of the toxins was trichloroethene, a cleaning chemical linked to cancer. It was kept in leaky drums where it seeped into groundwater, or was dumped down drains, and made it back into tap water used in sinks inside. Many of the plaintiffs in the five-year lawsuit had cancer, and some died before the settlement was reached.
Trichloroethene was used from 1968 until 1986, according to the Florida Department of Environmental Protection. The plant was operated by five different companies before it closed in 2003.
Read more at Orlando Sentinel.
Image credit: USGS.