Former Texas mayor's non-profit air monitoring group springs from noxious experience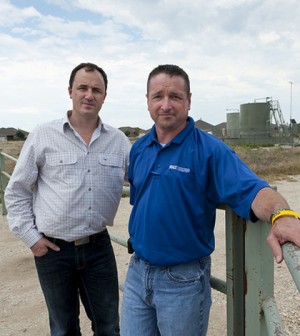 When Calvin Tillman was the mayor of a small Texas town at the crossroads of natural gas pipelines and refineries, he tried to alert regulators of problems citizens there were experiencing.
He got little response besides visits to assure his citizens everything was fine.
The citizens of Dish, Texas, didn't believe it. Tillman said noxious odors emitted from natural gas processing facilities made peoples' eyes burn and noses bleed.
"We were actually able to improve our situation in Dish through data collection," Tillman said.
The townspeople collected air samples near natural gas compressor stations and processing facilities. They sent them to an independent testing lab where they were analyzed.  The results showed elevated levels of benzene and other volatile organic compounds, which exceeded Texas Commission of Environmental Quality standards.
The information got the attention of regulators, who went on to do further testing.  Soon, noise abatements were placed on natural gas compressor facilities in the area. TCEQ tightened emissions regulations on the natural gas processing facility in town and established air quality monitoring stations.
It was a positive result for a town that was named 'Clark' until 2005, when it changed its name get free Dish Network TV. "When I was mayor I used to tell the (gas) industry, 'I'm the nicest person in this town to you,'" Tillman said.  "…My citizens would tear them to shreds."
Once Tillman left Dish's City Hall, he started ShaleTest, a non-profit air monitoring group to help those negatively impacted by industrial activity.
ShaleTest works with citizens in Texas and Pennsylvania to test air quality.  Funded by grants and donations, the group focuses on those who can't afford to hire consultants to test the air for them. Tillman said his team is also willing to travel to other states where funding is available.
A team of part-time employees screens requests for testing services to determine the best candidates.  Testers travel to the property in question and start collecting samples.
ShaleTest testers use a special FLIR Gasfindir camera designed to detect volatile organic compounds. They also collect air samples with stainless SUMMA Canisters, which have vacuum pressure that pulls in an air sample.  Then they send them off to get samples analyzed.
"A lot of our tests are baseline tests," Tillman said.
Their samples are often the first ever collected in an area.Tillman said his data is usually a way to spur regulators to action.  "I wouldn't necessarily say they're on board with us," Tillman said, but his goal is to push a hot-button and get regulators to look into areas where ShaleTest results show dangerous air pollution.
Tillman said obtaining conclusive results, especially in air monitoring, is difficult.   Many times, he said, the place they test may stink, but testers can't come up with enough data to validate unhealthy air pollution.
Most recently ShaleTest tested areas of North Texas on the Barnett Shale. They found elevated levels benzene and toluene in emissions from a gas processing facility.  The Texas Commission of Environmental Quality confirmed the results with further testing.
Top image: Calvin Tillman, right, with Jeremy Buckingham, an Australian politician (Credit: Jeremy Buckingham MLC, via Flickr)