Forum addresses conflicts over California's Salinas Valley water quality regulations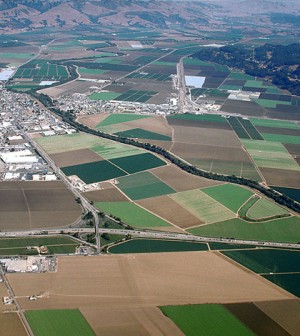 Aerial view of Watsonville, Calif., in the Salinas Valley (Credit: U.S. Army Corps of Engineers, via Wikimedia Commons)
Water officials in California's Salinas Valley are trying to reconcile competing interests in response to the state's new water quality regulations, according to the Monterey Herald. The regulations, which take effect March 2014, are supported by environmentalists, while many farmers are against them.
To help remove the contentious spirit from the debate, a forum held Oct. 24 brought together the two factions. It was the third such conference that focused on the regulations in conjunction with environmental needs and farming economics.
Officials say the issues are complex, but the goals set by the new regulations are clear.The forum was hosted by various agricultural organizations and California State University – Monterey Bay.
Image: Aerial view of Watsonville, Calif., in the Salinas Valley (Credit: U.S. Army Corps of Engineers, via Wikimedia Commons)