Fukushima contaminants found in California kelp one month later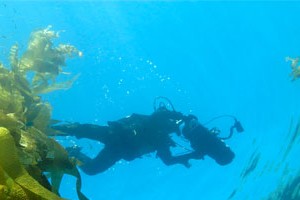 Scientists at California State University, Long Beach found that radioactive iodine from the Fukushima nuclear reactor contaminated kelp near Orange County a month after the accident. Luckily, iodine 131's short half-life of 8 days left it undetectable in the kelp a month later. Though there was no known damage to the kelp or other marine life, its appearance on California's coast is evidence that events in other parts of the world have far-reaching effects, especially in water.
A researcher said that the only foreseeable damage in fish that ate the kelp could be to their thyroid systems.
Read more at Scientific American.
Image credit: National Science Foundation.