Gas company disputes USGS findings of fracking chemicals in drinking water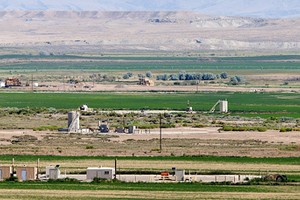 Representatives from a gas company conducting hydraulic fracturing in Wyoming challenged a U.S. Geological Survey study, which possibly confirms Environmental Protection Agency findings of fracking chemicals leeching into drinking water.
Several publications, including the Wall Street Journal, reported that the EPA confirmed the USGS findings are "generally consistent" with EPA data.
Chemicals used in diesel fuel were found in monitoring wells drilled in Pavillion, Wyo., according to Bloomberg Businessweek. These chemicals are commonly used in hydraulic fracturing to adjust the thickness of fluid used to crack shale to extract natural gas trapped inside rock layers.
Representatives from Encana Corp., the company that drilled the Pavillion fracking wells, said that the EPA and USGS findings are the results of improper testing methods.  The company said the EPA drilled test wells too deep. Encana representatives also criticized USGS for only taking data from water in one well because it could not replicate the process in the second well, according to Business Insider.
Bloomberg Businessweek reports the Pavillion wells are much shallower than wells in other parts of the country, making them closer to aquifers.
The EPA has not given an official verdict on its findings.
Image: Gas fields of Pavillion, Wyo. (Credit: Jeremy Buckingham MLC, via Flickr)