Genetic material gives insight into microbes beneath ocean floor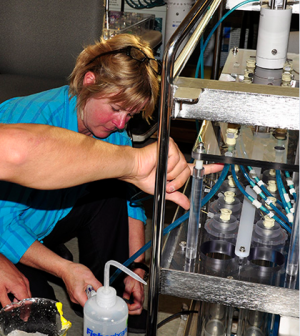 Researchers from Woods Hole Oceanographic Institution and the University of Delaware found microbiological activity in sediment beneath the ocean floor, according to a WHOI press release.
The scientists studied sediment from 5 to 159 meters beneath the ocean floor, off the coast of Peru.  They were able to detect messenger RNA from microbes in the sediment. The genetic material was in extremely low concentrations and difficult to find.
Once mRNA was coded, researchers found proteins responsible for cell division, meaning the microorganisms are actively proliferating. This is the first evidence of cell division in this habitat and could have important implications for models of the global carbon cycle.
Image: WHOI microbial ecologist Virginia Edgcomb, seen here working on a deep-sea robotic incubator (Credit: Cherie Winner, Woods Hole Oceanographic Institution)