Giant plastic bags in Swedish fjord to study ocean acidification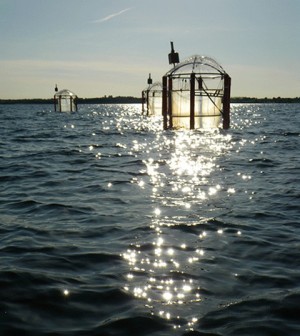 The Alpha Galileo Foundation has reported that researchers from the University of Gothenburg in Sweden have undertaken one of the largest experiments ever conducted on the effects of ocean acidification.
Researchers have placed ten plastic containers called mesocosms capable of holding 55,000 liters of water in Sweden's Gullmar Fjord. Carbon dioxide has been added to half of the mesocosms in order for researchers to better understand how acidification will impact the water's marine plants and animal plankton. Herring and cod larvae will also be added to the mesocosms to determine how different species may develop in carbon-polluted waters.
The study, which runs from January to June, employs the largest mesocosms ever used in order for researchers to get a more complete understanding of the total ramifications of ocean acidification.
Image: Plastic bag mesocosms in the Gullmar Fjord for ocean acidification study (Credit: Gertje König)