Government drawing down Deepwater Horizon oil spill cleanup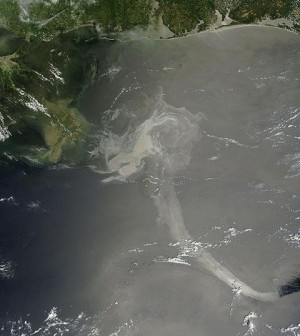 National Response Center workers stationed in the Gulf of Mexico to address claims of environmental damage due to the Deepwater Horizon oil spill are transitioning back to regular duties away from the gulf, according to a government press release.
The move is a sign that clean up for the largest oil spill in U.S. history is slowing down.
Capt. Duke Walker, the federal on-scene coordinator for the Deepwater Horizon Response, said further cleanup of some areas in the gulf may damage the ecosystem worse than the oil.
U.S Coast Guard response to environmental damage from the spill claims will continue.
Government employees at the NRC communicate with people claiming harmful environmental discharge of chemicals, radiation and other contaminants anywhere in the U.S. and its territories.
Image: A satellite image of the Deepwater Horizon oil spill in the Gulf of Mexico (Credit: NASA)