Great Lakes floating platform results please researchers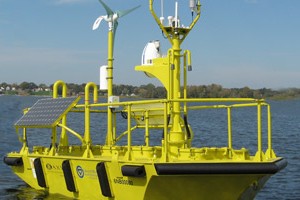 University and government researchers are happy with the data gathered on a trial run of a floating research platform recently retrieved from Lake Michigan. The platform measured 60-mph winds and survived 20-foot waves during two months it spent four miles off shore of Muskegon, Mich.
The platform's central purpose is to gather data to help guide scientific decisions on future Great Lakes offshore wind energy projects, thought wind speed is only one of dozens of parameters measured by the platform that could prove useful for a variety of Great Lakes researchers. Collaborators include Grand Valley State University, University of Michigan, Michigan State University, and the National Weather Service.
Read more at the Muskegon Chronicle
Image credit: AXYS Technologies, Inc.