The Guardian releases map, data on small-particle air pollution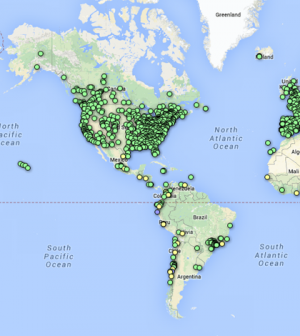 North and South America in The Guardian's air pollution map
Data journalists at The Guardian have put together a global map of small-particle air pollution. The resource is available online and shows how cities across the world compare.
The tools were launched after a report from the World Health Organization found air pollution in Delhi, India is comparable to that in Beijing. They focus on annual levels of PM 2.5 in the air.
The newspaper has also made available for download a global dataset on the small-particle pollution. This allows those interested in the science to dig deeper on their own.
Image: North and South America in The Guardian's air pollution map