Gulf of Mexico study finds oil spill carbon in phytoplankton food web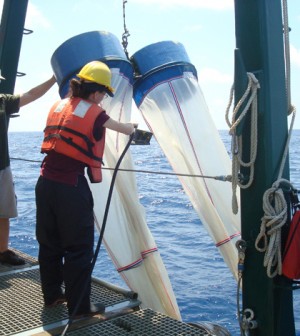 A group of researchers from Florida and Mississippi found carbon from the Deepwater Horizon oil spill entered phytoplankton food webs, according to a Gulf Research Initiative article.
The researchers of Florida State University, Florida A&M University and the University of Southern Mississippi tested sampled phytoplankton up to 100 kilometers north of the spill and tested surface water near the Gulf coast.
A run through the Woods Hole National Ocean Sciences Accelerator Mass Spectrometer and the National High Magnetic Field Lab identified carbon in samples.  Click here to read the study.
Image: Samantha Bosman, a technician with the FSU Coastal & Marine Lab, prepares to deploy bongo nets to collect plankton. RV Weatherbird II (Photo credit: Jeff Chanton, FSU)