Heron's dipperLog keeps water level and temperature monitoring easy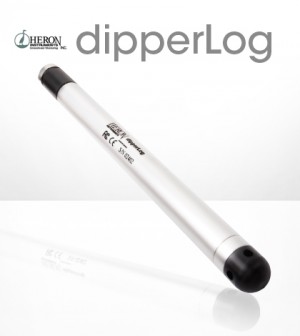 Keeping an eye on ground water levels is important, especially when low aquifer levels could mean thirsty crops or thirsty people.
The Heron dipperLog water level and temperature logger can help those withdrawing large amounts of ground water to keep an eye on water levels, so they can plan future water use.
The logger is used by drillers, water managers and grounds keepers alike to keep an eye on the aquifers, on which people depend.
Near the Ontario headquarters of Heron Instruments, Inc., for instance, golf course groundskeepers use loggers to monitor ground water withdrawal needed for irrigating the greens, said Vicky Toon, vice president of sales and marketing at Heron Instruments Inc.
"The dipperLog helps groundskeepers ensure water levels remain constant in their ponds and supply wells, not only for their own use but also to ensure they do not over take water that also needs to be available for individuals who need access to groundwater in the area," she said.
The logger is a utilitarian, self-contained unit with built in sensors and memory, which can record 32,000 depth readings and 32,000 temperature readings.
The compact water level and temperature logger can be simply programmed and dropped down a bore hole, stand pipe or test well to monitor ground water levels.
Water levels are measured with a pressure transducer, selected based on the depth range where the dipperLog will be set in a well.
The dipperLog can also be let loose to log in a body of water.  Mounting the logger in a deployment or stilling pipe is recommended to measure water levels in lakes and rivers, said Toon.
Users can choose between two variations of the dipperLog, with either a vented or non-vented transducer.  Both have the same accuracy to plus or minus .05 percent of the maximum pressure range seen while logging.
Heron's non-vented logger requires an additional barometric pressure logger mounted in open air, to get the most accurate readings. When downloading data, the user must first download barometric readings and then download water level readings so that the dipperLog can compensate for barometric pressure.
The vented logger does not need compensation for barometric pressure. However, the desiccant, which absorbs moisture in the logger, must be maintained to ensure reliability and prevent water infiltration. It is especially important, as the loggers can be deployed for several years with only short breaks to download data, Toon said.
When deploying the logger, users can either install a direct read well head or simply suspend the logger in their well using a non-stretch, non-corrosive wire line of Kevlar string. The direct read well head option makes for quick downloads of data by simply plugging in a laptop to the well head. A communication cable mounted in the well transports data from the logger to a laptop or net book. Suspended loggers, on the other hand, must be pulled from their monitoring locations to interrogate data.
Heron's dipperLog is ideal for time series data collection. "These loggers are generally used for medium- to long-term monitoring," Toon said. "But they are also ideal for short-term monitoring like pump tests when supplied on a dipperLog well head reel for ease of portability"
Temperature and water level logging gives users the capability to observe changes in their monitoring locations. "It's all about discovering the current trends in your wells or boreholes and trying to predict future events in your groundwater levels and temperatures using the data logger," Toon said.
Applications for the loggers fall into a host of categories, but the ideal use for the logger is groundwater monitoring.
Like the dipperLog, Heron's interfacing software was created with ease of use in mind. Information required to get logging is minimal including units of measure, logging interval, datum points and a start date and time. Toon said there are plenty of helpful information windows programmed into the software to ensure correct inputs for a successful log.
Once data is collected dipperLog software can convert it into a CSV file for graphing and data sharing.