Historic Floods In Louisiana Break Streamgage Records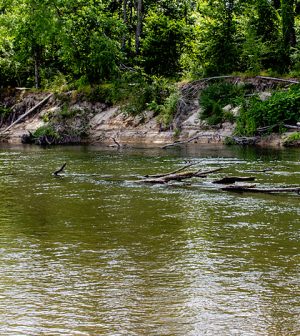 Bogue Chitto River in Bogue Chitto State Park, Washington Parish, La. (Credit: Flickr User mcandrus / CC BY 2.0)
During the recent historic floods in Louisiana, six streamgages operated by the U.S. Geological Survey (USGS) registered new peak records, according to a statement from the agency. An additional 50 stations were overtopped by the floodwaters.
Thirty of the agency's gages registered over the flood stage for several days, and many were damaged. Some were overcome by flood waters, while others were destroyed by debris carried downstream by the fast-moving water.
Graphs of data logged by the streamgages give striking timelines of the flooding. One that was deployed on the Comite River began to register water level rises Aug. 11, 2016 and passed its peak record sometime early on Aug. 13. From that point, it stayed above the old record, around 36 feet, until near the end of Aug. 15. The Comite River is a drainage river, receiving flood waters from its tributaries, and was slow to recede for that reason.
Another gage on the Amite River, the primary drainage for Baton Rouge, La., surpassed its record, around 42 feet, on Aug. 13. It stayed above that until Aug. 15, with USGS officials explaining its gage height increased more slowly because it is a deeper river that is used to sustaining large volumes of water.
Because of the large-scale, unprecedented floods in Louisiana and the damage they have caused, agency crews are now out servicing all of the affected gages. Where the gages are out, crews are taking indirect measurements to determine streamflow and surveying high-water marks. The data they gather are being posted on an interactive flood map for Louisiana.
In all, the USGS monitors water conditions in Louisiana at 261 sites using streamgages and other measuring instruments. The information is important for agencies like the National Weather Service and U.S. Army Corps of Engineers as well as the general public who rely on water alerts.
Top image: Bogue Chitto River in Bogue Chitto State Park, Washington Parish, La. (Credit: Flickr User mcandrus / CC BY 2.0)