Hollywood sewer line rupture angers residents, threatens wildlife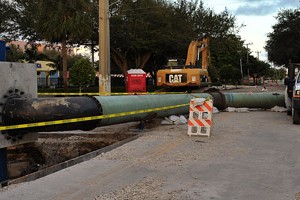 A Hollywood, Calif. neighborhood and canal were invaded with millions of gallons of raw sewage after a 40-year-old section of pipe burst November 16th, killing fish and sending residents to nearby hotels. Nearly three weeks later, improvements to the canal water quality are apparent with the return of wildlife including fish, ducks and manatees. However, some local residents are unhappy with progress. They demanded the city to clean their property and test their soil for bacteria levels. City officials asked that residents file individual claims.
"We didn't have a playbook on the shelf," said Mayor Peter Bober to the Miami Herald, after residents shared their frustration over the sewer mishap Tuesday. "We will never be able to repay you for the aggravation and irritation, but we will continue to do what we can."
The city could face fines from the Environmental Protection Agency. Environmental experts believe that the canal will recover quickly.
Image credit: Michael Laughlin, Sun Sentinel