Houston Clean Air Network reports daily air quality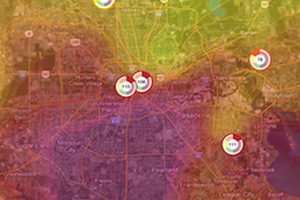 Houston, like many other cities, suffers from poor air quality. But now residents can check the daily condition of air around the city online, according to a University of Houston press release.
The Houston Clean Air Network shows an interactive map of the Houston area dotted with air sampling locations. Each indicates the quality of the air in a particular region of the city.
The network can alert residents when the air is too toxic for heavy exercise or ideal for a walk in the park. The rating of air quality ranges from good to hazardous.
The site also has informational articles defining ozone, explaining how it forms and its effects ozone has on the body.
University of Houston professors partnered with the American Lung Association and Air Alliance Houston to develop the site. It was sponsored by a three year, $450,000 grant from Houston Endowment.
The Texas Commission on Environmental Quality provides air quality data for the site, according to the press release.