Hurricane Irene pushed high amounts of organic matter into NYC drinking water source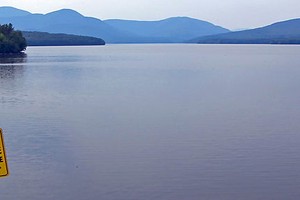 A recently released Yale study documented record amounts of dissolved organic matter in the Catskills watershed after Hurricane Irene last summer, according to a news release from Yale University.
The study found that for two days water flow increased 330-fold in a Catskills creek that runs into a reservoir, which feeds into New York City's drinking water.
Increased flow also transported a huge amount of dissolved organic matter into the reservoir. An amount of organic matter equivalent to 43 percent of annual discharge flowed into the reservoir in two days.
The article states that storms brought on by a warming earth could perpetuate excessive dissolved organic matter runoff.
Excess organic matter disrupts biogeochemical cycles by transporting metal pollutants, fueling waterborne carcinogens and hampering ultraviolet pathogen reduction, according to the article.
Image: The Ashokan Reservoir received a big doge of dissolved organic matter after Hurricane Irene (Credit: David Goehring, via Wikimedia Commons)