IPCC report says carbon capture and sequestration likely necessary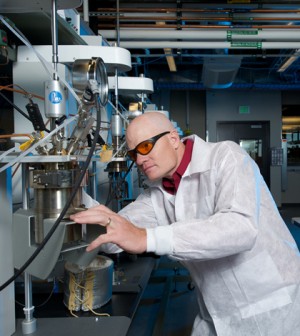 Researchers at the with the Center for Advanced Energy Studies at Idaho National Laboratory works to better understand how to store carbon underground. (Credit: Idaho National Laboratory, via Flickr)
A new report by the Intergovernmental Panel on Climate Change states that carbon capture and storage will likely be necessary to prevent the Earth's temperature from rising to dangerous levels, New Scientist reported.
Citing economic growth as a primary contributor to CO2 emissions, the report recommended "widespread" use of bioenergy in addition to carbon capture and storage. This technology could come in the form of specially grown crops that would absorb extra greenhouse gases.
Use of fossil fuels, the report states, must end by 2100. The report is neutral toward nuclear power, but suggest natural gas may be a useful "bridge technology" to replace coal.
Image: Researchers at the with the Center for Advanced Energy Studies at Idaho National Laboratory works to better understand how to store carbon underground. (Credit: Idaho National Laboratory, via Flickr)