Keecker home robot measures environment and does a whole lot more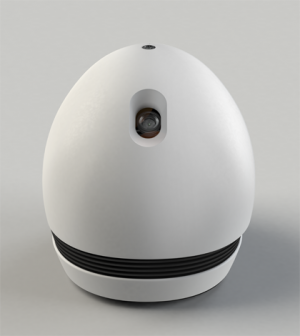 The Keecker device (Credit: Keecker)
It looks like an egg, moves like a Roomba and can do pretty much anything you ask of it. The Keecker is a robot that combines home monitoring with home entertainment, available for a tidy sum of $4,000, Yahoo Tech reported.
Developed by Pierre Lebeau, the Keecker can measure temperature, carbon dioxide, humidity, air quality and noise as it zips around a house, memorizing the floorplan. Its 360-degree camera can serve as a webcam or a motion detector. A smartphone app puts the Keecker's owner in control of it, though it's just as happy to navigate on its own.
Not content to just be a home-monitoring automaton, the Keecker can also project video from a smart device or computer on any surface, play music, and learn to perform any of its functions in a particular room by voice command.
Image: The Keecker device (Credit: Keecker)