Susquehanna River: Keeping An Eye On Fracking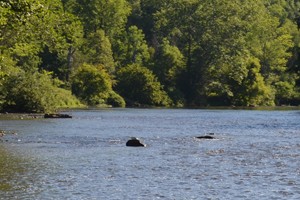 With nearby natural gas drilling in the Marcellus Shale and other industrial runoff, two organizations in Elk County, Penn., have teamed up to monitor the area's water. The Elk County Conservation District (ECCD) and the Iron Furnace chapter of Trout Unlimited, a coldwater conservation group, have put grant awards from the Colcom Foundation and the Stackpole-Hall Foundation toward establishing real-time water quality monitoring stations at 16 locations in sub-watersheds of the West Branch of the Susquehanna River, and the Clarion and Allegheny Rivers in and around Allegheny National Forest.
The Clarion River is the only river that runs through Elk County, and at one time was so badly polluted it could be lit on fire. In the last 40 years, the river has been cleaned and community members have developed a sense of responsibility and pride for their water. Now, concerns for drinking water, aquatic recreation and the aquatic habitat that supports high-quality fisheries throughout Western Pennsylvania have been raised by the increased natural gas drilling seen across the much of Pennsylvania. It is the hope of the ECCD and Trout Unlimited that the new monitoring project will help protect these valued waters.
Protection of public drinking water is the project's priority. Residents have already begun gathering baseline measurements of water quality before major drilling begins in the area. That information will complement real-time water quality data gathered by NexSens satellite telemetry systems. The almost instantaneous water-quality warnings these systems provide will help the team respond to pollution events.
"We have to be proactive in watching over our waters. With this system, we can protect drinking water quality before a pollution event becomes a problem," explained Kim Bonfardine, Watershed Specialist at ECCD.
Gas drilling in the Marcellus Shale frequently relies on a technique called hydraulic fracturing, in which high volumes of water and chemicals are injected into the shale formation to release natural gas. This brings with it the risk that the fracturing fluids, or the natural gas itself, could enter and contaminate underground aquifers and/or surface waterways. The monitoring system allows natural gas drilling to take place and will alert if there is a pollution event.
The sites will be equipped with NexSens mast-mounted data loggers that use Iridium satellite telemetry to transmit data without relying on cellular networks. A 20-watt solar power kit continually recharges the systems, offering lasting performance without the need for battery changes.
Each data logger will connect to a multi-parameter water quality sonde, which is equipped to measure temperature, conductivity, pH, dissolved oxygen, and turbidity. This state-of-the-art equipment is designed for long-term deployments in both fresh and saltwater. It includes self-cleaning sensors to extend deployments. Calibration parameters are logged in an internal file for quality assurance.
Public awareness, a key element of the project, is facilitated with an online datacenter. Visitors can see charts and gauges, the locations of the watershed monitoring sites, and the latest measurements. The data is automatically collected from the loggers at four-hour intervals and transmitted via satellite telemetry to a computer running NexSens iChart software.
Project officials are basing their approach on the Susquehanna River Basin Commission's water-quality monitoring project. The eastern third of Elk County is located in the Susquehanna River Basin, which covers most of central and eastern Pennsylvania and parts of southern New York. The remaining two-thirds of the county are what the ECCD and Trout Unlimited are concerned about. Bruce Dickson, a member of Iron Furnace Trout Unlimited, said that the lack of similar monitoring projects in the Allegheny National Forest area means water use goes unregulated.
"There's so much public land up here, and there's really no advocacy for it," Dickson said. "We're in a situation where our water withdrawal and disposal isn't regulated under one tent like it is with the SRBC. It's kind of a free-for-all."
Dickson said Trout Unlimited is also working with watersheds in Forest and McKean counties so that more of the water resources in Allegheny National Forest are monitored. Some streams in the area are plagued by acidic water, which comes from coal mining drainage and acid rain. The soils on the Allegheny Plateau are sandstone-based and have lost much of their buffering capacity after years of exposure to acid precipitation. The acidic water inhibits fish and macroinvertebrate reproduction. Many people visit the area to fish for its native trout; however, sensitive freshwater fish could be threatened if conditions do not improve.
"They're typically small populations, because the stream's productivity is not there due to the long-term effects of acidification," Dickson said.
To increase community awareness, Bonfardine works with area schools to teach students about local flora, fauna, and water quality. Some high school teachers have already expressed interest in the Web portal. They can incorporate data produced by the Elk County Monitoring Project into their lesson plans. Students will be able to take an active part in monitoring water quality by simply watching for spikes in parameters while in the classroom. Bonfardine also works with middle and high school students by taking them to acid mine drainage sights, acid precipitation sites, and to local streams for chemical analysis and macroinvertebrate identification.
"I think getting kids interested in the quality of the stream, whether there's pollution or not, is a very important thing," Bonfardine said. "I want them to develop a sense of stewardship where they feel responsible for the streams in their communities."