On abandoned Kiska Island, archaeologists study humans' long-term environmental impacts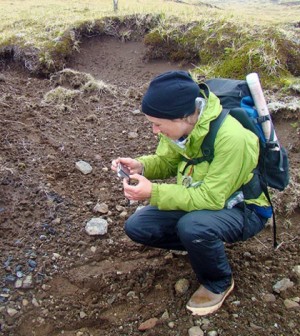 Caroline Funk examines a site on Kiska Island (Credit: University at Buffalo)
Scientists say the environment of today is built on the actions of those who have already passed. A growing body of knowledge supports this theory and it's held by most as common sense: what we do now affects the environment our descendants will inhabit.
But, scientifically speaking, feeling in your gut that a relationship exists and proving that it actually does are two different things. With more information needed to draw concrete conclusions, researchers look to regions of Earth that have been deserted by humans. Places like Kiska Island, which sits in the Rat Islands of Alaska's Aleutian Archipelago.
The small island was home to a prehistoric population of Aleuts or Unangans, a maritime people who lived there for 6,000 years. This offers researchers a rare opportunity to study the impacts that humans have on regions over time. This summer, scientists will document the last few thousand years of those impacts on Kiska in concert with natural environmental changes that have occurred. The study will bring together a host of disciplines, including biology, geology and anthropology.
"We're constantly trying to understand how our actions impact the environment," said Caroline Funk, research assistant professor of anthropology at the University at Buffalo. "Archaeology is unique in its ability to provide time-stamped cultural and environmental information in addition to human impact data." She joins co-principal investigators Nicole Misarti, a research assistant professor from the University of Alaska, Fairbanks and Brian Hoffman, associate professor at Hamline University, in overseeing a slew of investigations.
Researchers will go in May and June of this year, when it will still be cold in the islands. It begins with a flight to Adak, Alaska, the site of an old U.S. military base. From there, they hitch a ride on a research vessel to Kiska. "You go when there will be a boat in the vicinity," said Funk.
A smaller boat shuttles equipment to shore by making short trips. Scientists usually set up camp near a stream and sleep in small individual tents. A large one serves as working and community space.
Funk has made similar trips in the past and says that complications can come up while living on a remote island. This is especially true given the large rat populations that live on Kiska. They give the archipelago its name.
"One year, they got into our powdered mashed potatoes," said Funk. "Now we have a hammock technique to hang food from the rafters of the WeatherPort (tent)."
Changes in weather conditions can also complicate research.
"We'll work as hard and as long as we can each day, even if it's 40 degrees and raining each day," said Funk. "You don't really want to do that, but the data are so remarkable that it's worth it."
An intertidal survey performed by senior scientist Spencer Wood will record baseline data for the island's food web. Pollen cores, gathered by Nancy Bigelow, a senior scientist from UAF's Alaska Quaternary Center, will show changes to sediments since the last ice age and yield bits of volcanic ash.
"With tephra (volcanic ash) sequences, there's no human impact," said Funk. They provide a good route to understanding changes that have occurred since before humans lived there thousands of years ago. Funk says scientists making this two-month expedition hope to gather enough samples to form a clearer understanding of human and environmental histories for the past millenia.
Archaeological survey and test excavations, led by Funk, Hoffman and senior scientist Debbie Corbett, will also take place across the island to investigate impacts the ancient Aleuts had on the landscape. Funk, who specializes in identifying animal bones, says it's one of the few methods of investigation that will rely on low-tech equipment. "We use our eyes," she said.  Other research methods will use mass spectrometers, soil corers and portable X-Ray fluorescence machines.
After all data have been collected, they will be shared with the National Science Foundation, which is providing funding for the project, and made available to researchers via public sources. Funk looks for them to be used by environmental modelers around the world.