Lake Michigan hits October record low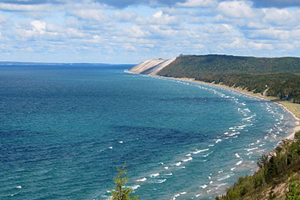 Water levels at Lake Michigan recently reached  the lake's record low for the month of October, according to the Milwaukee Journal Sentinel.
The Army Corps of Engineers reported the water level last week.  The lake's water level sunk to a low seen last in 1964.
Data on Lake Michigan water levels are collect daily.  An official from the Army Corps of Engineers said that if this trend continues more monthly record lows will come as winter approaches.
Image: Lake Michigan off the Sleeping Bear Dunes (Credit: Rachel Kramer, via Wikimedia Commons)