Lake Michigan: Low Bycatch In Lake Whitefish Trawling Study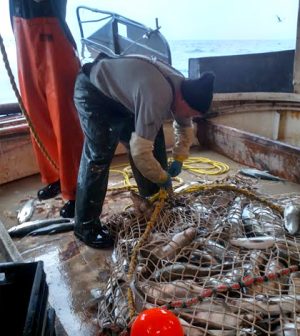 A net filled with lake whitefish is brought aboard. (Credit: Titus Seilheimer / Wisconsin Sea Grant)
Commercial fishermen in Wisconsin want to be able to trawl for lake whitefish in Lake Michigan. The approach is easier than using trap nets, which are set for months at a time and have to be cleaned periodically. But doing that would require a rule change, something that can't be accomplished without scientific knowhow showing that the practice wouldn't be harmful to the lake's other species of fish.
An ongoing effort carried out in partnership between the Wisconsin Department of Natural Resources, Wisconsin Sea Grant and commercial fishermen is gathering data to inform a possible change. Results so far are positive as the effort wraps up its second year of trawling and, though a rule change isn't guaranteed, data are helping to underscore that Lake Michigan isn't the lake it used to be.
Investigators have routinely been going out on the water with Steve Kulpa, a commercial fisherman from Two Rivers, Wisc. The scientists, who have permission from the state, are doing experimental trawls at 60- to 350-foot depths for lake whitefish while onboard. They get data on fish stocks while the fishing crew gets to keep all the fish that are caught, though the stocks do count against their quota. And so the same amount of fish are coming out of the lake. They're just getting caught in a different way.
"The study is limited to areas that were limited to trawling in the past," said Titus Seilheimer, fisheries specialist with the Wisconsin Sea Grant. He has been going out on the lake for the past two seasons, between March and October. "Instead of taking existing gear (trap nets) for other species, commercial fishermen would like to use trawling nets. We're looking to see, if that gear was used on Lake Michigan, what would the effects be on other species?"
To figure that out, Seilheimer and others are tracking which species are most susceptible to bycatch with trawling nets. For some, including lake trout, they are also attaching tags with phone numbers so that anglers near and far can report where the fish they catch have ended up.
Tagging lake trout came about by happenstance, Seilheimer says. The idea originally was to tag as many fish as possible, but then lake trout kept popping up in the trawling nets.
"Lake trout are sportfish. They have a lot of value to the fishery, but they also have the highest bycatch," said Seilheimer. "Overall, 2.8 percent is bycatch or non-target species. Lake trout are fairly common. The second most common was non-marketable whitefish. … The fish that we caught drove what we tagged."
Other fish that researchers have seen in the nets include "rough fish," or fish that anglers don't typically want and whose stocks are too low to be monitored by state agencies.
It's a little surprising that the bulk of the bycatch so far has been lake trout, Seilheimer says. He points to similar studies in the past, around two decades ago, that made different findings. The Lake Michigan of today may be partly to blame for the shift.
"We're looking at a really altered lake now. With the increased water clarity, some of the fish can probably see the net and avoid it that way. It's much different if we compare clarity and more algae growth," said Seilheimer, noting the effects quagga mussels have had as well as a rise in cladophora on the bottom of the lake. "Some trawls, we put a GoPro on the top of the net and 150 feet down there's still lots of light and clear water."
In addition to that, crews are also tracking temperatures as the net goes down with an Onset Tidbit temperature logger. It does well at the depths the net goes to and records data at five-minute intervals.
Taking it all together, Seilheimer says the findings will help with management decisions. The data are also revealing neat insights into the actions of Lake Michigan fish.
"It's interesting biology to se the seasonal locations of lake whitefish, where they are and where they go. It's an applied science but we're deriving info on fishery behavior as well," said Seilheimer. "… We want to know what factors are important and how to better understand these fish."
He expects that the project will continue into the near future, or at least until state agencies have enough data to make a decision on the rule change. It's a multi-step process that could take some time.
"The data we have show it's a low bycatch type of fishing gear. With a rule change, you get into the sociopolitical side of things which is not always science based. It's mobile gear that you don't leave in the lake. You can clean it when you take it out," said Seilheimer. "There's positives and the data support that. As long as the lake stays the way it is, it will probably be low-bycatch gear as well."
Any rule change would affect Zone 3 of Wisconsin's Lake Michigan waters, an area below Door County in the lake's southern portion.
Top image: A net filled with lake whitefish is brought aboard. (Credit: Titus Seilheimer / Wisconsin Sea Grant)