Lake Michigan study finds Chicago shore sediment easily suspended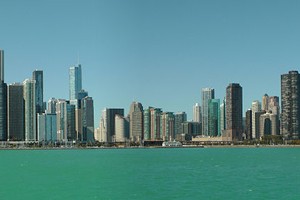 A study of Lake Michigan on the Chicago shoreline showed that weak storm events easily remix sediments and the contaminants within into upper layers of water, according to a National Water Quality Monitoring Council newsletter.
Scientists found that weak storm events, as minor as wind direction changes, easily re-suspend sediment near the shoreline.
The study was comprised of two legs. First, scientists from the U.S. Geological Survey and the Chicago Park District traveled parallel to the shore monitoring water quality, bathymetric and current data onboard a boat.  Then 23 individual sections from Evanston, Ill. to Rainbow Beach, Ill. were monitored by boat and with an autonomous underwater vehicle.
Final analyses on Lake Michigan water quality and hydrodynamic patterns are still in progress.
Image: Chicago's Lake Michigan shoreline (Credit: Bladerunner2019, via Wikimedia Commons)