Lake partnership initiates community monitoring of mining areas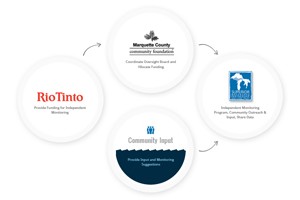 A group dedicated to Lake Superior's health is inviting citizens from northern Michigan to take part in a community environmental monitoring effort focused on mine areas, according to a Superior Watershed Partnership news release.
The community environmental monitoring will be an ongoing project mainly funded by the Rio Tinto mining company, which will pay $300,000 a year for monitoring of the Eagle Mine, Humboldt Mine and mining transportation routes.
Citizens near Marquette, Mich. are invited to take part in the program. Community members will monitor air quality, water quality and wildlife. SWP staff will work with EPA-approved labs, universities and contractors to for assistance monitoring the areas, according to the article.
Three community meetings will be held this week on the initiative. Click here to see the schedule.