Lake sediments offer evidence of past century-long droughts in California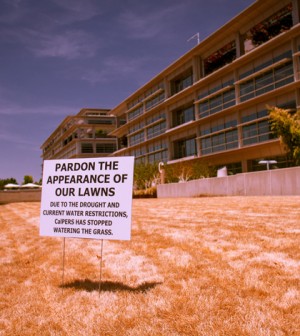 Drought and watering restrictions lead to dead lawns near Sacramento. (Credit: Kevin Cortopassi, via Flickr)
Scientists at Cal State Fullerton have discovered that California has suffered from century-long droughts in the past, according to a release from the university. The findings indicate that the variability in wetness and dryness for the state has changed a lot in the past 3,000 years and that worse drought conditions could be on the horizon.
Sediment samples collected from Zaca Lake in the Santa Ynez Mountains provided a basis for the investigation, with researchers dissecting chemical and physical characteristics from below the lake's bottom. The samples were used to reconstruct the variability of past precipitation beyond what typical tree-ring records show.
Results of the study also help link the state's winters with El Niño, which are important in replenishing mountain snowpack. Forecasts for El Niño have decreased to a 65-percent chance this year, which could mean a weakened winter and more persistent drought for California.
Image: Drought and watering restrictions lead to dead lawns near Sacramento. (Credit: Kevin Cortopassi, via Flickr)