Low MCHM levels still found in West Virginia drinking water after spill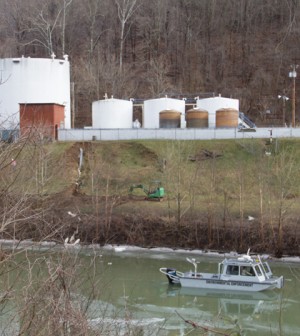 An environmental enforcement boat patrols in front of the chemical spill at Freedom Industries (Credit: Foo Conner, via Flickr)
Tap water samples from 10 homes in West Virginia show that low levels of MCHM, an oily substance released in a recent chemical spill, can still be detected, according to Jefferson Public Radio. The leak occurred Jan. 9 on the Elk River after the rupture of an industrial storage tank.
Samples were taken in houses downstream of the incident by a group of researchers formed by the state's governor. They say that levels of MCHM, while lower than drinking water limits set by the Centers for Disease Control and Prevention, are still being found.
The sampling effort falls under the West Virginia Testing Assessment Project. Collected data have been made publicly available online.
Image: An environmental enforcement boat patrols in front of the chemical spill at Freedom Industries (Credit: Foo Conner, via Flickr)