Low phosphorus makes red tide more algae toxic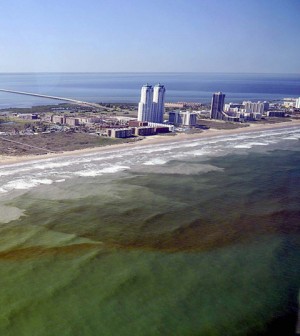 North Carolina State University has reported that a university-led study of the Gulf of Mexico shows that Karenia brevis algae, which cause red tide blooms, become more toxic when phosphorus levels are low. Phosphorus is a main algal food source.
Researchers tested five Karenia brevis species in different locations in the Gulf, varying the amounts of phosphorus available. The data showed that algae with limited access to phosphorus were two to seven times more toxic than the algae surrounded by greater concentrations of the nutrient.
Public-health officials can use the data derived from the study to better assess what waters might be too toxic for both marine life and humans to navigate.
Image: Red tide bloom off the coast of Texas (Credit: Chase Fountain, Texas Parks & Wildlife)