LSU researchers simultaneously monitor, predict storm surge on wetlands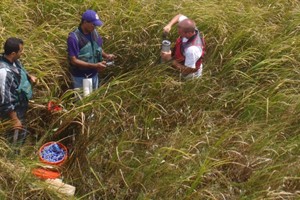 Louisiana State University researchers forecasted Hurricane Isaac's storm surge while their sensors collected real-time data in coastal wetlands, verifying their models, according to an LSU Research Communications news release.
Q. Jim Chen, LSU professor of coastal engineering, several graduate students and fellow researchers deployed storm surge sensors a day before Hurricane Isaac hit southern Louisiana last August. While in the field they conducted a topographic survey of areas near the sensors. The team then modeled storm surge and wind speed.  A graphic of collected data shows the team's predictions were close to recorded events.
Data on storm surge in wetlands may provide insight into how marshes reduce flood risks in coastal areas.