Major U.S. cities at risk of rising sea levels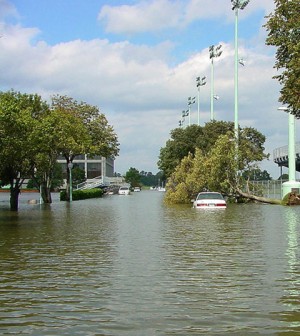 Many U.S. cities, including Boston, New York and Miami, are at high risk from rising sea levels, according to The Guardian. The conclusion comes from a study published in the Proceedings of the National Academy of Sciences.
When expanded to include towns, the study cites 1,700 U.S. cities and towns at risk from rising sea levels brought from warmer temperatures caused by greenhouse emissions. Some cities, including Fort Lauderdale and Miami Gardens in Florida, as well as Hoboken, N.J., are past saving, the study reports.
The authors note that stopping all emissions immediately would still require time for global temperatures to drop, meaning not much can be done to keep the most at-risk cities from experiencing even minimal effects of higher sea levels.
Image: Flooding in Annapolis, Md., after Hurricane Isabel. Sea level rise could make such flooding worse. (Credit: U.S. Navy)