Manmade marshes to further clean Baltimore's Inner Harbor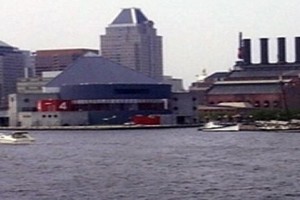 In an effort to continue water cleansing in Baltimore's Inner Harbor, manmade floating wetlands will be launched later this month, increasing existing floating vegetation ten-fold. Volunteers from local organizations created the floats that contain marsh grasses which feed on contaminants discharged into the bay from nearby wastewater plants and storm and sewage runoff. The original floats launched in 2010 improved water quality to the point that native wildlife like crabs and filter-feeding mussels entered the harbor.
According to a specialist at the University of Maryland's Sea Grant program, every 100 pounds of vegetation removes two pounds of nitrogen from the water. Volunteers hope visitors to the harbor can swim and fish in it by 2020.
Read more at the Baltimore Sun.
Image credit: research.gov