'Mega Canyon' discovered beneath Greenland ice sheet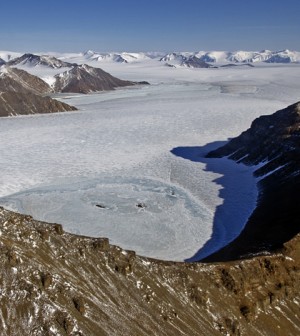 Glaciers flowing through a valley in northeast Greenland seen from NASA's P-3B research aircraft on Apr. 19, 2013. (Credit: NASA/Michael Studinger)
A NASA mission to examine the world beneath continental ice sheets found a behemoth trench larger than the Grand Canyon under Greenland's ice, according to a NASA press release.
The findings resulted from radar data collected between 2009 and 2012 as part of NASA's Operation IceBridge. A combination of data collected by researchers from the United Kingdom, Germany and NASA helped determine that the canyon existed.
The researchers flew over Greenland examining the ice sheet.  NASA scientists used a Multichannel Coherent Radar Depth Sounder to see beneath the ice, among other instruments. Returning readings from the sounder indicate thickness and geometry of underlying rock formations.
Collected data show that the canyon is a minimum of 460 miles long and as deep as 2,600 feet.  The researchers suspect the canyon transports melt water below ice into the Arctic Ocean.
Top image: Glaciers flowing through a valley in northeast Greenland seen from NASA's P-3B research aircraft on Apr. 19, 2013. (Credit: NASA/Michael Studinger)