Mich. orgs teach volunteers about dangerous Great Lakes currents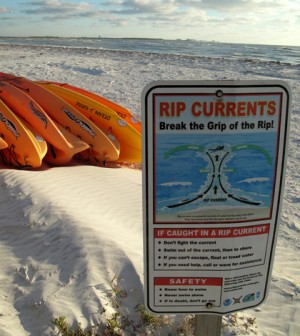 Michigan organizations conducted a series of lake current workshops in June, according to a release from Michigan State University Extension. The classes were meant to teach parks personnel, volunteers and researchers about dangerous currents in the Great Lakes.
Experts from the National Weather Service were on hand at the workshops to present information on the different types of hazardous currents that occur in the lakes. Rip currents are one of them, but there are also structural currents that generate by near-shore structures and channel currents that flow parallel to shore.
By knowing the different kinds of dangerous currents that occur in the Great Lakes, namely Lake Michigan for the group, it's hoped that fewer swimmers will get caught in them. First responders can use the knowledge to avoid getting wrapped up in them during a rescue and researchers may be able to track the flow of nutrients or algal blooms.
Image: Rip current warning (Credit: Heydn Ericson, via Flickr)