Mich. State weather stations chart growing season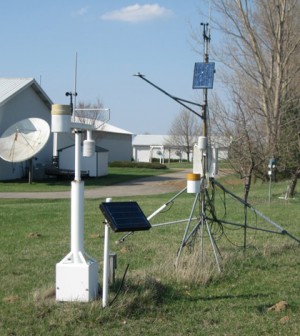 A Michigan State University Enviro Weather Station (Credit: Michigan State University)
Michigan State University's Enviro-Weather stations are charting the number of growing days for farmers in the state, according to a release. The stations' data are revealing that the state's growing season is weeks behind in some places.
The variability in the growing season makes it harder to predict growth of crops, weeds and the spread of insects. This is in contrast to 2012, when Michigan's growing season was two weeks ahead or more in most of the state.
The progress of the season can be predicted using a measure of accumulated heat over the course of time: degree days. Growing degree days are measured by looking at heat above a certain temperature threshold. Information on the required days for growth of many plants in the state are listed on the Michigan State's Extension website.
 Image: A Michigan State University Enviro Weather Station (Credit: Michigan State University)