Michigan DNR's 20th annual frog and toad survey kicks off this spring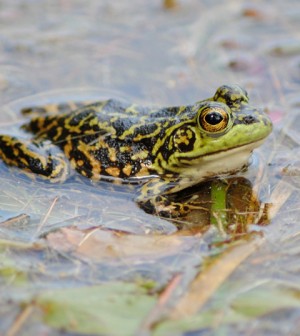 Survey results show that the mink frog, a species with limited range in Michigan, is on the decline. (Credit: Mike Ostrowski, via Flickr/CC BY 2.0)
In the mid-1970s, scientists began documenting declines in amphibian populations around the world. The trend was well-established by the 1980s, with habitat loss and pesticide use among the most likely culprits. Concerns grew that the loss of frogs, toads and other amphibious animals could pose a major threat to global biodiversity.
Over the past 19 years, the Michigan Department of Natural Resources has conducted an annual survey of frogs and toads to see how the state's populations fare amid the global decline. The 20th Frog and Toad Survey kicks off this spring, giving hundreds of volunteers an opportunity to participate in a tradition of citizen science and contribute to a vital population count.
The survey doesn't require volunteers to use any complicated sampling equipment; all the work is done with their ears and the grey matter in between. Participating volunteers are assigned a route comprising 10 wetland sites at least half a mile apart. Starting after sundown, volunteers walk the routes and stop for five minutes at each site, listening for distinct frog and toad calls. Based on the calls alone, the surveyors identify species and estimate abundance at the site.
"The number of routes that submit data each year hovers around 200," said Lori Sargent, the DNR's survey coordinator. "There could be anywhere from one to many volunteers per route."
The results are used to assess population trends in the state, Sargent said. Twenty years of surveying have shown declines in Fowler's toad and mink frog populations, two species with limited habitat in the state. As for the root of the issue, Sargent says it isn't clear.
"We don't know why they're declining," she said. "We certainly are trying to maintain wetland habitats on state land and ensure habitat."
Data from previous surveys have been used in studies and theses for master's and doctoral students. Sargent says she hopes universities and other researchers will take up the survey's findings "for more intense research."
While there are no plans to change the way the survey is conducted in the future, Sargent is exploring new methods to examine and apply the collected data.
"I would like to analyze the data in different ways," she said. "For example, [to] look at trends in each watershed."
Anyone interested in volunteering in the survey can find more information at the Michigan DNR website.
Top image: Survey results show that the mink frog, a species with limited range in Michigan, is on the decline. (Credit: Mike Ostrowski, via Flickr/CC BY 2.0)