Michigan Elementary Students Measure Water Chemistry, Release Salmon During Trip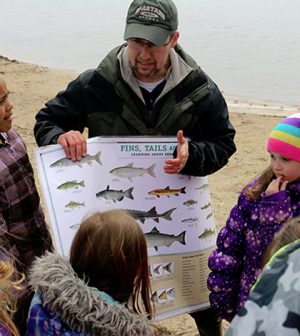 Elementary school students released their salmon into Harrisville Harbor. (Credit: Alcona Elementary School)
A group of Michigan youngsters got their hands dirty in early May during a trip to Harrisville Harbor as part of an educational effort helped in part by the Michigan Department of Natural Resources (DNR), according to a release. The harbor trip allowed the Alcona Elementary School students to release salmon they had reared in their classroom over the previous year as well as enjoy other science-related activities.
These included identifying macroinvertebrates like scud, sowbugs and nymphs with a D-Net and field scope. The youth also gathered water samples and tested them for parameters including ammonia, nitrate, dissolved oxygen and pH. There was also a nature hike that showed the students about the ecosystem surrounding Harrisville Harbor, like animal and insect homes as well as the plants that help support creatures there.
The class and its teacher are considering adopting the larger Harrisville Harbor area that would see them building a relationship with the DNR to both help the area and fulfill state education requirements. And the students have a few ideas for improving things already: rain gardens to catch parking lot runoff and more information for the birding trails.
Top image: Elementary school students released their salmon into Harrisville Harbor. (Credit: Alcona Elementary School)