Michigan harbor and marina dredging projects move forward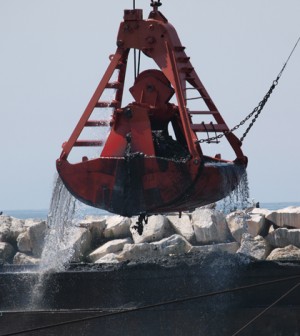 Michigan is embarking on a number of dredging projects this year, according to the Michigan State University Extension. The projects are advancing following the passage of the Dredging Assistance Package, a policy bundle that favors the projects.
The package includes policy changes that help communities and private marinas gain funding for dredging activities. It also redirects money from the Michigan State Waterways Commission toward more dredging projects. It totals around $20.9 million.
For more information on the dredging package, the Michigan Department of Natural Resources has created a community toolkit that provides a useful overview. The agency has also released a map of the most critical short-term dredging projects in the state.
Image: A clamshell dredge in action (Credit: U.S. Army Corps of Engineers)