Michigan Sea Grant releases new online Great Lakes tools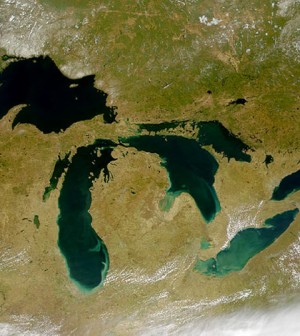 Great Lakes from space (Credit: SeaWiFS Project, NASA/Goddard Space Flight Center, and ORBIMAGE.)
Michigan Sea Grant has developed two new online tools for students and others around the Great Lakes, according to a release from University of Michigan. The two projects are Teaching Great Lakes Science and Great Lakes FieldScope.
Teaching Great Lakes Science is a website for teachers with lessons, activities and data sets that focus on different aspects of the region. Great Lakes FieldScope is an interactive, web-based tool that lets visitors explore rivers and streams, watershed boundaries, water depth and other field characteristics. FieldScope users can also upload data on their own.
Michigan Sea Grant has worked with multiple organizations to set up the tools. These include Eastern Michigan University, the Great Lakes Observing System, National Geographic, the National Oceanic and Atmospheric Administration and the U.S. Geological Survey.
Image: Satellite image of the Great Lakes from space (Credit: SeaWiFS Project, NASA/Goddard Space Flight Center and ORBIMAGE)