Minneapolis watershed commissions request public comment on management plans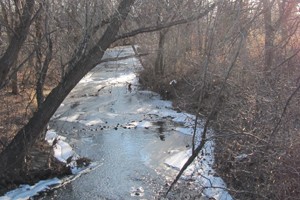 Two Minneapolis watershed commissions are requesting public comment on their plans to improve water quality via monitoring and improved standards, according to a Minnesota community website.
Shingle Creek Watershed Management Commission and West Mississippi Watershed Management Commission will soon revise water management plans for a 67 square-mile area where water quality fails to meet state standards.
Monitoring of Shingle Creek and Bass Creek indicated problematic nutrient loading. Chloride and dissolved oxygen levels were also concerning in the creeks.
Part of the draft solution is to update stormwater management rules. Plans also include improving stormwater filtration with rain gardens and treatment ponds.  Both watershed commissions will also increase monitoring to track progress once the new plans are implemented.
Plans are open for comment until Dec. 21.
Image: Shingle Creek (Credit: Ed Kohler, via Flickr)