Minnesota county water agency goes paperless, trading clipboards for iPads and GIS app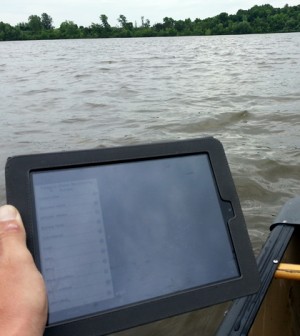 An iPad and GIS application in use while sampling on a Carver County lake (Credit: Charlie Sawdey)
A county water management agency in Minnesota is forgoing clipboards, paper and pens that they once brought along on sampling trips, turning instead to iPads and mapping applications to send water quality measurements right from the boat to the web.
The Carver County Water Management Organization conducts water quality monitoring and oversees development-related water rules throughout an area southwest of the Minneapolis-St. Paul Twin Cities region.
While on sampling trips to 14 lakes in 2013, crews measured parameters like dissolved oxygen and water temperature at the surface and immediately logged the data into ArcGIS Online, a free mapping application from ESRI.
A code developed by the county's GIS department harvests that data from ESRI's servers and uploads it to a website where citizens can log on and see the most recent data.
"All the iPad data we're collecting on the lake is real-time," said Charlie Sawdey, a water resources analyst with the county. "Historically you're taking steel folders out and pieces of paper to write down the measurements that you're getting."
The move to paperless monitoring has a lot to do with the county's progressive GIS department, Sawdey said. The water management office has a good working relationship with the GIS folks, who make sure that the scientists are working with state-of-the-art technology.
Despite the technology and custom code involved, Sawdey said that their methods aren't difficult to set up. That's good news for other small agencies that are looking to reap the same benefits.
"We presented what we're doing here at a variety of conferences at the state level," Sawdey said. "We're garnering quite a bit of attention from other local units of governments that are interested in using this."
Now that they've got the iPad and GIS applications up an running, the water management office is looking to use them wherever they can. They're creating mapping layers to track stormwater best management practices throughout the county and helping crews identify whether the installations are filtering runoff and cultivating vegetation.
Sawdey said that going paperless has made sampling more efficient, the data easier to organize, and the department better at disseminating information to the public. The only slight drawback might be the possibility of losing the tablet over the side of the boat.
"It's certainly a concern, but I guess it is with every piece of equipment that we bring out there," Sawdey said. And better to lose the iPad in the lake than the YSI 6820 sonde that they use to take measurements. "It's a little bit cheaper to replace."
Top image: An iPad and GIS application in use while sampling on a Carver County lake (Credit: Charlie Sawdey)