Minnesota River study indicates successful phosphorus management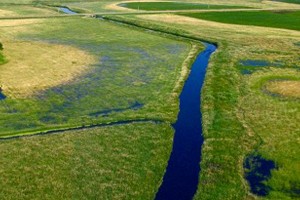 Results from a study of the Minnesota River conducted last summer say that nutrient management and mitigation practices have increased dissolved oxygen levels in the river, according to a Minnesota Pollution Control Agency release.
A 20-mile stretch of the Minnesota River had difficulty sustaining healthy levels of dissolved oxygen for aquatic life during low flow periods.
The three-week study conducted in August found that even under hot, dry conditions with low water flow, oxygen levels were healthy.
Strong dissolved oxygen levels are attributed to phosphorus management efforts in waste water treatment plants in more than ten communities near the river.
Image: An agricultural section of the Minnesota River watershed (Credit: MPCA)