Model predicts dangerous coastal rip currents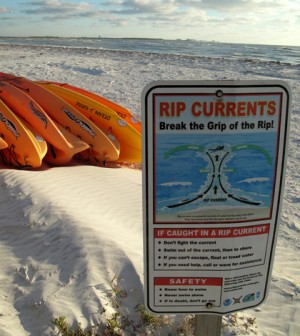 An Oregon State University professor has developed a mathematical model that can predict rip currents up to a day in advance, according to the Oregon Sea Grant.
Tuba Ozkan-Haller, an associate professor at OSU's College of Earth, Ocean and Atmospheric Sciences uses a radar system that sits near the beach to analyze water movement. It interprets data about the water's surface to determine the underlying bathymetry influencing currents.
The information can be plugged into a mathematical model developed in-part by Ozkan-Haller to predict where, when and how intense future rip currents will be.
Check out this video to get a glimpse of rip current modeling at the Oregon State Hinsdale Wave Research Laboratory.
Image: Rip current warning on a Florida beach (Credit: Heydn Ericson, via Flickr)